Welcome on my web page.
During my quest on web, I never found french-speaking website about Tonka toys. Thanks to a lot of incentives, I have decided to create this web page in order to present to you my personnal metal toys collection. There are mainly Tonka and Rico toys, but there are also other brands.
I was astonished by likeness between Tonka et Rico trucks, so I propose to you to compare them.
Don't be nauseate or deceived, lot of items shown on this web page are rusted and garbled. For a long time, I have quavered to show them in this woeful plight, but most of time it's like that you can found them. However, then a truck is restored, I replace the old picture by the new one.
Obviously, this web page is not a look book. You can't see all the Tonka and Rico production. And I don't know everything about Tonka and Rico history. If you have added informations, I will be very glad to collect them. To contact me, click on the link below.

Finally, I ask you to be lenient, it's the first web page I write.
---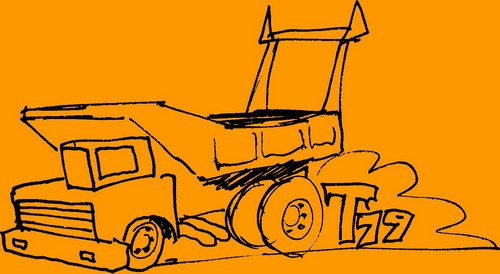 A very sympathic drawing sent by a collector
---
The website is not dead !
Let me show you some pictures of real cars used as models to make toys :
Ford Capri : Tonka made this car in several sizes.

Jeep Gladiator : During several years, it was the main model of Tonka Mini line.
Jeep Surrey : This toy car made by Tonka for girls is a reproduction of a real car !
Winnebago Indian camper : The toy built by Tonka is shorter than the real camper, and the wheels are too big. Regular wheels would be better.
Ford Econoline : Models built by Nylint are very good
Ford 1966 : A other beautiful model built by Nylint.

| | |
| --- | --- |
| | |
| Tonka Tiny, Mini, Regular and Mighty lines | My collection in the showcase |